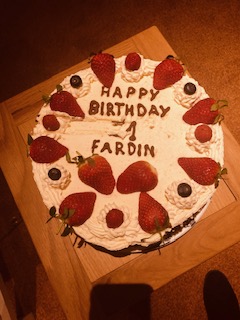 Magnolia celebrated the 21st Birthday of Fardin last Thursday.
Whilst Fardin was at college, we decorated the house with balloons and banners. A cake was made and presents were wrapped.
We asked Fardin what he would like as a treat for dinner which he indicated that he would like Brygida's special chicken meatballs and mash potato, before he went to college.
When Fardin returned to the house, he was so excited and enjoyed his birthday dinner with Michael, Ricky and staff on shift. He was even more happy and excited when his parents, sister and little brother arrived as a surprise.
We all sang Happy Birthday when the cake arrived and then sang it again to the second cake that his parents had bought with them was lit up with candles.
Fardin was super happy opening all his presents and cards and danced to the music being played.
Fardin's parents then took him home for the weekend and he was thoroughly spoilt.  Happy birthday Fardin